Connecting your new OpenWRT router to the network
Once you have received a parcel from us, follow these steps to connect your new router to the network.
1. Unpack the box and take out the router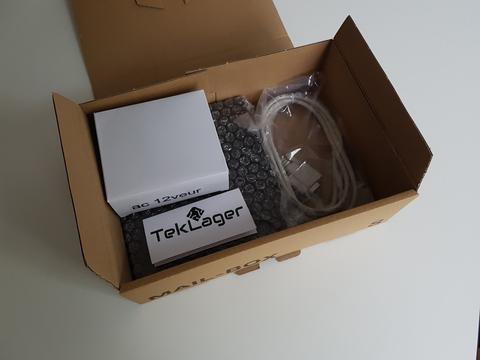 2. Connect the network cables
Unless you specified otherwise, device will come pre-configured with Port 0 as WAN and port 1 as LAN.
WAN (wan) -> eth0 -> DHCP
LAN (lan) -> eth1 -> v4: 192.168.1.1/24
Port 0 is the one closest to the serial port. Connect your internet cable into the WAN port, and your switch to LAN as shown on the photo: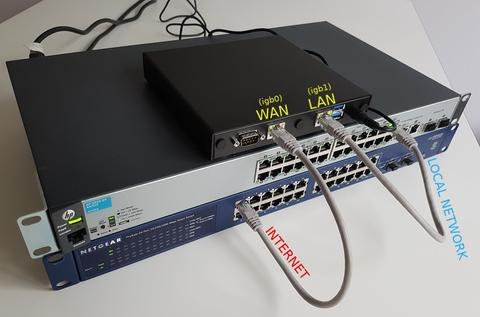 If you have ordered 3-port router, your LAN port will be in the middle, and the third port will be left unconfigured. 
If you have router with WiFI adapter, your antennas have been shipped unconnected. Screw them in now.
3. Connect the power adapter
Connect the power plug into your router before connecting it into the wall. 
4. APU board is booting 
Your router should now boot. OpenWRT boots  rather quickly. It should take about 20 seconds for it to fully boot. Unfortunately OpenWRT doesn't announce with any sound that it finished booting.
5. Connect to the web interface.
You should now be able to connect from your computer via the web interface to the OpenWRT web control panel at: http://192.168.1.1/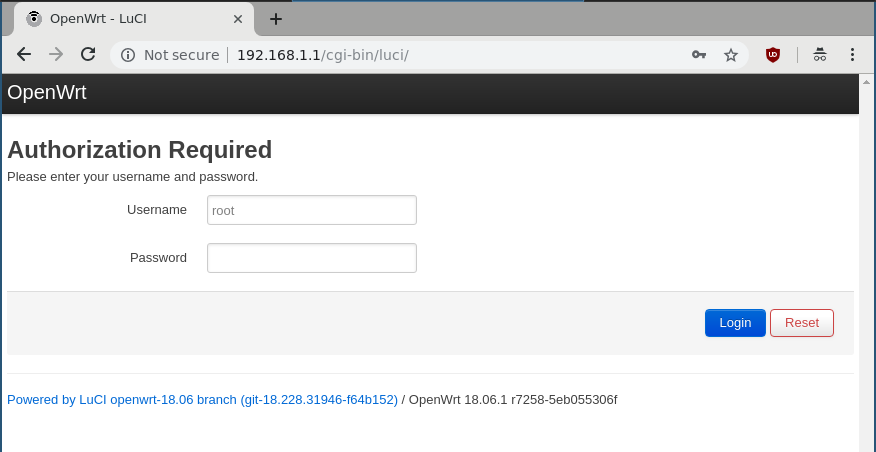 By default username is root and password is blank. We often reconfigure this to
Username: root 
Password: no password - leave the field empty (please change it!)
If you have wle900vx or wle600vx WiFi card installed in your router, we have configured it in the following way:
SSID: TekLager-AC
Password: TekLager123
Operating frequency: 5Ghz
Mode: AC
Channel width: 80MHz
Channel: 116 or 36
If you have wle200nx WiFi card installed in your router, we have configured it in the following way:
SSID: TekLager-N
Password: TekLager123
Operating frequency: 2.4Ghz
Mode: N
Channel width: 40MHz
Channel: 36
To reconfigure these settings, go to: Network -> Wireless -> Edit -> Wireless Security. 
6. NordVPN configuration (optional)
This step is only for customers who chose to have a NordVPN configuration.
We have configured your router according to the official instructions available here: https://nordvpn.com/tutorials/openwrt/openvpn/
You will have to set the username and password to your NordVPN account before your router will be usable. 
Please ssh into the router with putty 
username: root
password: TekLager123
IP address: 192.168.1.1
and edit /etc/openvpn/secret file.  The first line is username the second line is password.
Username is your NordVPN email address. Password is the same as you use to log in to the NordVPN panel.
The easiest way to do this is to paste this line into the terminal.
echo "your_email@here.com
your_password_here" > /etc/openvpn/secret
Reboot your router now. The NordVPN connection should be now active. 
Questions? Something's wrong? Contact us - we are happy to assist.