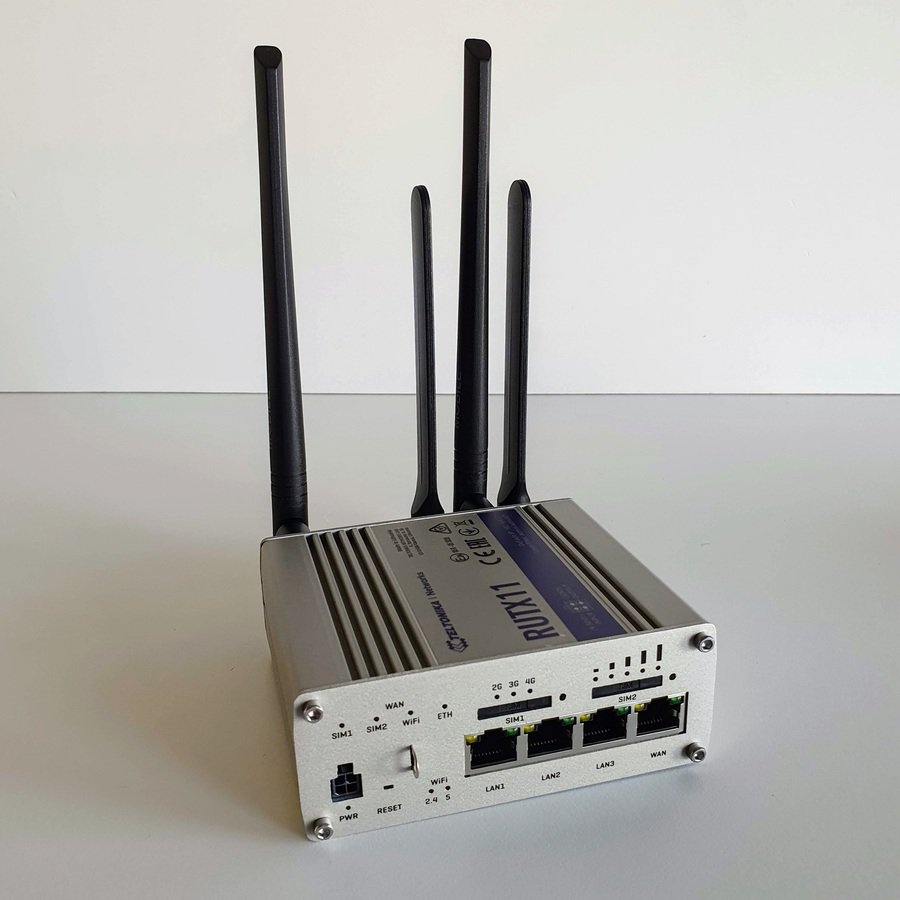 | | |
| --- | --- |
| Compatible parts | View compatible parts |
| Supported operating systems | RutOS - system based on OpenWRT. |
| CPU | Quad-core ARM Cortex A7, 717 MHz |
| Memory | 256 MB, DDR3 |
| Storage | 256 MB, SPI Flash |
| NICs | 1x WAN, 3x switch LAN ports |
| Ports | 2 x SIM slots, 2 x SMA for LTE, 2 x RP-SMA for WiFi, 1 x RP-SMA for Bluetooth, 1 x SMA for GNSS, 1 x USB A port for external devices |
| Graphics | - |
| BIOS | U-Boot |
| Power consumption | 16 W Max |
| Cooling | passive cooling |
| Dimensions | 115 x 44.2 x 95.1 mm |
| Weight | 1.050 kg |
| Manufacturer | Teltonika |
RUTX11 reviews
RUTX11
https://teklager.se/en/products/routers/teltonika-RUTX11
RUTX11 all-in-one: Router, Switch, dual-band WiFi Access Point, LTE gateway.
2,800
SEK
2,800
SEK
2099-01-01
Product in stock. Orders made before 17:00 are shipped on the same day within Sweden. International orders are shipped on the next business day.
RUTX11 is an "all in one" device, combining the function of a Router, Switch, Mobile LTE gateway, GPS, Bluetooth, and a dual-band WiFi access point. 
This is a rugged, industrial alternative to consumer routers. It's intended for customers that want a router that "just works" as a drop-in replacement for a "home router".
This all-in-one "router" has:
1x WAN port (Gigabit)
3x LAN switch ports (Gigabit) 
1x 4G LTE CAT 6 mobile modem (1x modem, 2x SIM card slots for failover)
1x GNSS (GPS - can be used on a boat or mobile home)
1x Bluetooth (for IoT and similar applications)
2x WiFi (simultaneous dual-band, 2.4Ghz, and 5Ghz).   
Supported LTE frequency:
The cellular modem will work only in Europe. It won't work in the USA.
4G (LTE-FDD): B1, B3, B5, B7, B8, B20, B28, B32
4G (LTE-TDD): B38, B40, B41
3G: B1, B3, B5, B8
Included in the box:
Router RUTX11
18W PSU power adapter
2x LTE antennas (swivel, SMA male)
2x WiFi antennas (swivel, RP-SMA male)
1x GNSS antenna (adhesive, SMA male, 3 m cable)
1x Bluetooth antenna (magnetic mount, RP-SMA male, 1.5 m cable)
Ethernet cable (1.5 m)
SIM Adapter kit
Quick Start Guide
Performance:
We have extensively tested this device before offering it for sale. Test results are below
Full gigabit WAN-LAN routing (using cable) 

When the LTE or WiFi connection is fully utilized, the LAN-WAN routing drops to about 500Mbit/s (this is generally OK)

WiFi performance 

5Ghz connection in close proximity reaches about 370-450 Mbit/s (very good in practice)
5Ghz connection 12 meters away, 2 plaster walls in between, reaches about 150-200 Mbit/s (quite awesome)

LTE / 4G connection:

LTE performance is always highly variable because it depends on the carrier and proximity to the base station. The numbers quoted below are only from our own tests in one location with one carrier. Higher performance is definitely possible under better conditions. 
Signal strength 3-4 bars (-59dBm, -63dBm)
Download: 60-85 Mbit/s 
Upload: 10-25 Mbit/s 
The connection was tested over 2 days and it proved to be stable and reliable. 
Tips and things to know:
This device is "half open-source". The operating system is based on OpenWRT, so you can gain root access via SSH, but you won't be able to install a different OS. 
There are 2 SIM slots, but only 1 LTE modem. This means that only one connection is possible at the time, but the modem can fail over to the second carrier/SIM if the primary connection drops. Great for a sailing boat or mobile home connection. 
Cat 6 modem theoretically can transfer data at a rate up to 300 Mbps, but you should not expect much more than 100Mbit/s in practice.
The operating system on this router is RutOS, a modified version of OpenWRT with a nicer user interface. 
This device is manufactured in Lithuania. I think this is neat - we don't produce too much electronics in Europe
Getting started video: https://www.youtube.com/watch?v=MSA9Ab8g0mM. 
Detailed specification on Teltonika's website: https://teltonika-networks.com/product/rutx11/