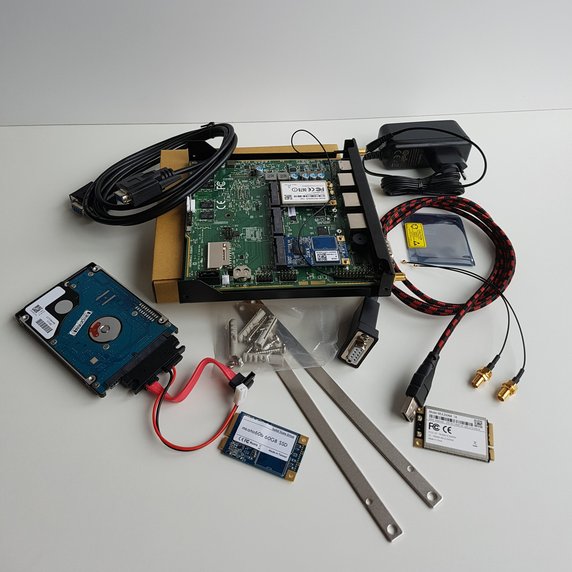 APU Router builder
Pick your components and see price at the bottom. Hardware assembly and basic OS installation is always free of charge.
Choose all the components yourself, we will build the router for you.
If you have chosen incompatible parts, we will contact you before assembly to confirm.
Hardware assembly and basic OS installation is always free of charge.
Recommendations:
We strongly recommend getting a Serial cable - it's essential for tinkering and installation of operating systems. 
16 GB SSD is probably big enough for your firewall/router. If you are building a server, you may want to get the 120GB SSD and/or SATA cable for regular 2.5' hard drive. 
You can install OS on the regular SD card, without getting the SSD from us, but this is not recommended. SD cards tend to die quicker, and are slower.
Wall-mount is great for installing your system on a wall or ceiling.
If you plan on using pfSense, we strongly recommend having separate access point instead of buying WiFi card. pfSense has poor WiFi support. If you plan on using OpenWRT/LEDE or IPFire, you can purchase WiFi card and have everything in one device.
Hardware supports pfSense 2.4, IPFire and number of other operating systems.
Advantages over competing hardware products
Completely silent. 0 dB - passively cooled. No moving parts.
Small: 16.8 cm X 15.7 cm 
Very low power consumption - 6 to 12W. 
Very high throughput - 620Mbit/s to Full Gigabit (depending on the OS)
CPU has built-in encryption support (AES-NI), allowing for high VPN throughout.
Price.
Advantages over the proprietary solutions:
Low total cost of ownership
No artificial add-ons requires to make your system fully functional
No additional charges for extra features - everything is included. unlimited users, unlimited firewall rules. unlimited VPN accounts.
Low power consumption. It won't show on your electric bill.
No moving parts. This system is designed to last decades.
Router/Firewall comes assembled, pre-configured and ready to use. If you prefer to receive the parts for self-assembly instead, please indicate it on your order. 
Email/phone setup assistance free of charge.