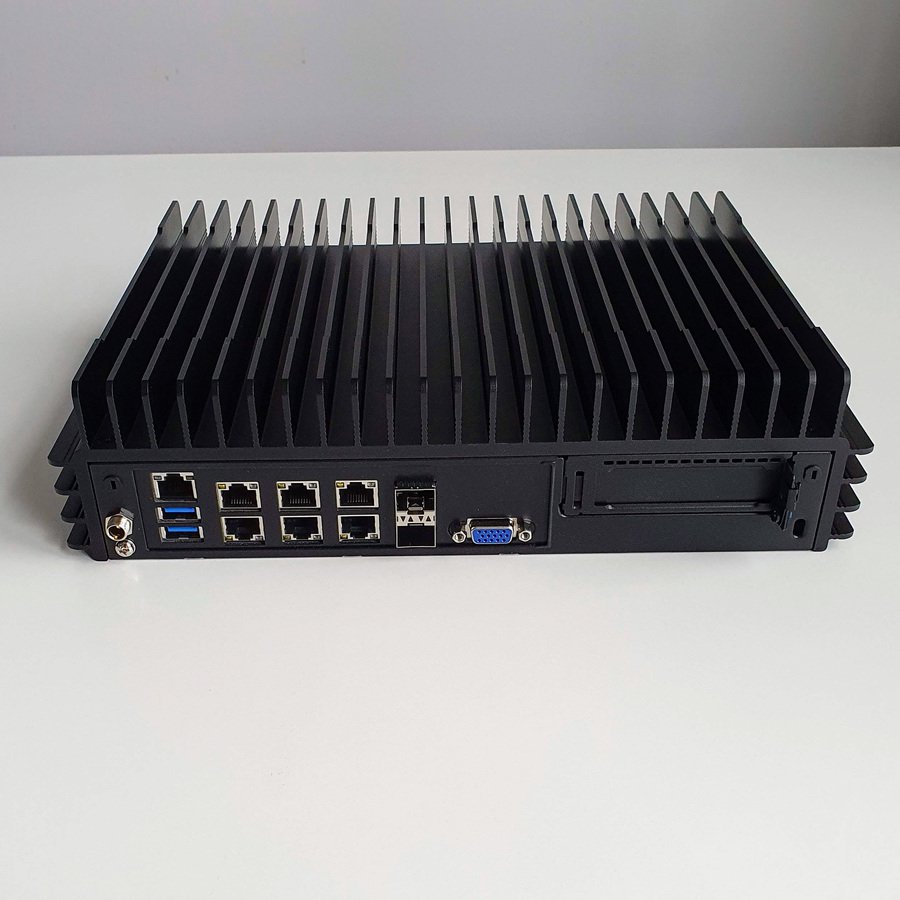 | | |
| --- | --- |
| Compatible parts | View compatible parts |
| Supported operating systems | pfSense® CE, OPNSense, OpenWRT and all other router systems are supported |
| CPU | Intel® Xeon® processor D-2123IT (8 threads, 4 cores) |
| Memory | 32GB 2666Mhz RAM installed (supports up to 256GB - 4 RAM slots) |
| Storage | 1x M.2 SATA port. (comes with 256GB SSD) |
| NICs | 2x 10G SFP+, 2x 10GBase-T LAN, 4x 1GbE LAN |
| Graphics | VGA port |
| BIOS | Supermicro BIOS |
| Power consumption | 60W |
| Cooling | Fanless - passively cooled |
| Dimensions | 295mm x 76mm x 206mm |
| Other | Warranty: 3 years |
| Weight | 4.600 kg |
| Manufacturer | Supermicro |
TLSense D2123IT reviews
TL-D2123IT
https://teklager.se/en/products/routers/TLSENSE-10G-D2123IT
TLSense D2123IT: 4x 10Gbit, 4x 1Gbit, Xeon D-2123IT,
19,800
SEK
(
24,680
incl. SE 25% VAT)
19,800
SEK
2099-01-01
Product in stock. Orders made before 17:00 are shipped on the same day within Sweden. International orders are shipped on the next business day.
D2123IT is a powerful server/router intended for customers that need multiple 10Gbit ports. It's suitable for a 10-Gigabit router or high-performance server applications. 
It's the only passively-cooled 10Gbit hardware we know of.  
 Hardware specification
CPU: Intel® Xeon® processor D-2123IT (8 threads, 4 cores) roughly 2x as performant as i7-7500U in multi-threaded applications - https://www.cpubenchmark.net/compare/Intel-Xeon-D-2123IT-vs-Intel-i7-7500U/3319vs2863
32GB 2666Mhz RAM installed (supports up to 256GB - 4 RAM slots)
1x M.2 SATA port. (comes with 256GB m.2 SSD)
2x 10G SFP+ ports - for optical or copper transceivers (SoC - from CPU)
2x 10GBase-T LAN ports - copper (with Intel X557)
4x 1GbE LAN ports - copper (intel 350-AM4)
1x Dedicated IPMI LAN port (ASPEED AST2500)
2x USB 3.0 
1x VGA port
Fanless - passively cooled.
Included in the box
1 x TLSense D2123IT router (as specified above)
1 x Power adapter (plug of your choice)
Optical SFP+ Transceiver not included - purchase separately if required. We recommend AOC-E10GSFPSR 
Photos on the left show comparison between the standard size TLSense box vs this one. This product includes only one router.  
Performance
Full 10Gbit/s routing performance on pfSense 2.5.1 - test results
More tests will be performed in the next few days. 
Advantages over competing hardware products
Low power consumption in comparison to power - 60W 
Low total cost of ownership (no licensing fees, low power consumption)
Completely silent. 0 dB - passively cooled. No moving parts.
CPU has built-in encryption support (AES-NI), allowing for high VPN throughput.
No artificial add-ons required to make your system fully functional
No additional charges for extra features - everything is included: unlimited users, unlimited firewall rules, unlimited VPN accounts.
No planned obsolescence - future versions of open-source operating systems will continue to work on this hardware.