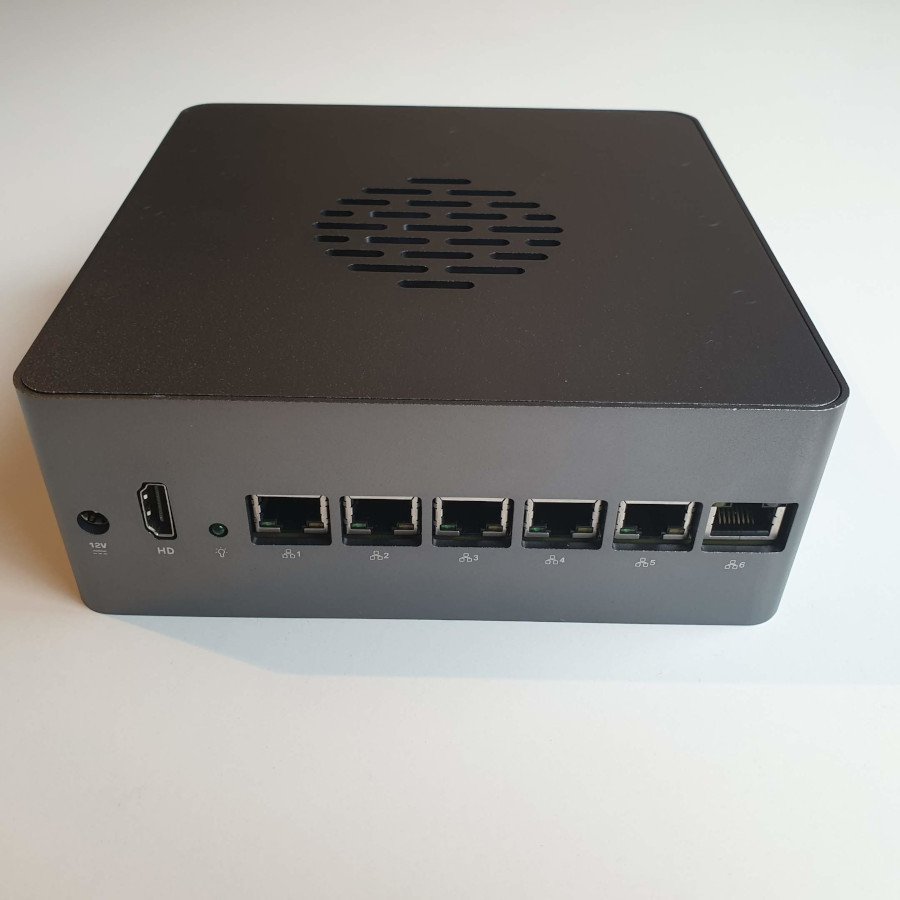 | | |
| --- | --- |
| Operating system | pfSense® CE, OPNSense, IPFire, OpenWRT and all other router systems are supported. |
| CPU | Intel Kabylake Core i5-7400 Quad Core, 6M Cache, 3.3GHz, up to 3.5GHz, Intel HD 630 |
| Memory | 16 GB DDR4 2133MHz (32G Max) |
| NICs | 6 x Intel I211-AT Gigabit NIC |
| Storage | 512 GB M.2 SSD |
| Graphics | Intel® HD Graphics 630 |
| Power consumption | ~65W Max |
| Ports | 1 x HDMI, 2 x USB, 2 x M.2, 1 x Mini-PCIe, 6 x Intel I211-AT Gigabit NIC |
| Cooling | Actively cooled. Includes FAN! |
| Dimensions | 187 x 115 x 52 mm |
| Other | Not compatible with WiFi cards sold in the store |
| Weight | 1.700 kg |
| Manufacturer | Qotom |
TLSense 7400 6P reviews
TLSENSE_7400_6P
https://teklager.se/en/products/routers/tlsense-7400-6p
TLSense 7400 6P: 6x Gigabit LAN, Intel 7400 CPU, 512GB SSD, 16GB RAM
8,080
SEK
8,080
SEK
2099-01-01
Product not in stock - shipping to clients on the day of the delivery.
Next delivery expected by August 31
This is the strongest router we offer. It's targeted towards customers requiring 1 Gbit VPN throughput with many simultaneous connections, or very high ISP/IDS throughput. No compromises.
This hardware is also suitable for virtualization (ESXi, Proxmox, etc.). Hardware supports pfSense® 2.4, pfSense 2.5 (when it's released), OPNSense, IPFire as well as Windows, Linux and other operating systems.
Hardware specification
Intel Kabylake Core i5-7400 Quad-Core, 6M Cache, 3.0GHz, up to 3.5GHz. Full specification on Intel's website
2 x DDR4 SO-DIMM Socket 2133MHz 16GB installed (32G Max)
Intel® HD Graphics 630
512GB M.2 SSD 
1 x HDMI (for management and troubleshooting)
6 x Intel I211-AT Gigabit NIC
2 x USB 3.0
1 x SATA 3
1 x M.2 for SSD (Type: 2260, 2280mm)
1 x M.2 for WiFi (Type: 2230mm)
1 x Mini-PCIe (for LTE)
1 x SIM slot
Weight approximately 1.8kg
CPU has AES-NI support, meaning that it will be supported by pfSense 2.5 once it's released. 
Can be used as a router, server or even desktop computer. At TekLager we use these systems as office computers.
Included in the box
1 x TLSense router (as specified above)
1 x Power adapter (12V, 5A)
1 x SATA cable (installed)
Throughput
This hardware has been internally tested at TekLager to provide clients with reliable information.
Full 1 Gigabit routing under pfSense (CPU load about 0.3)
~ 1Gbit/s encrypted OpenVPN throughput under pfSense 2.4.4 (CPU load about 1.0). Tested on NordVPN.