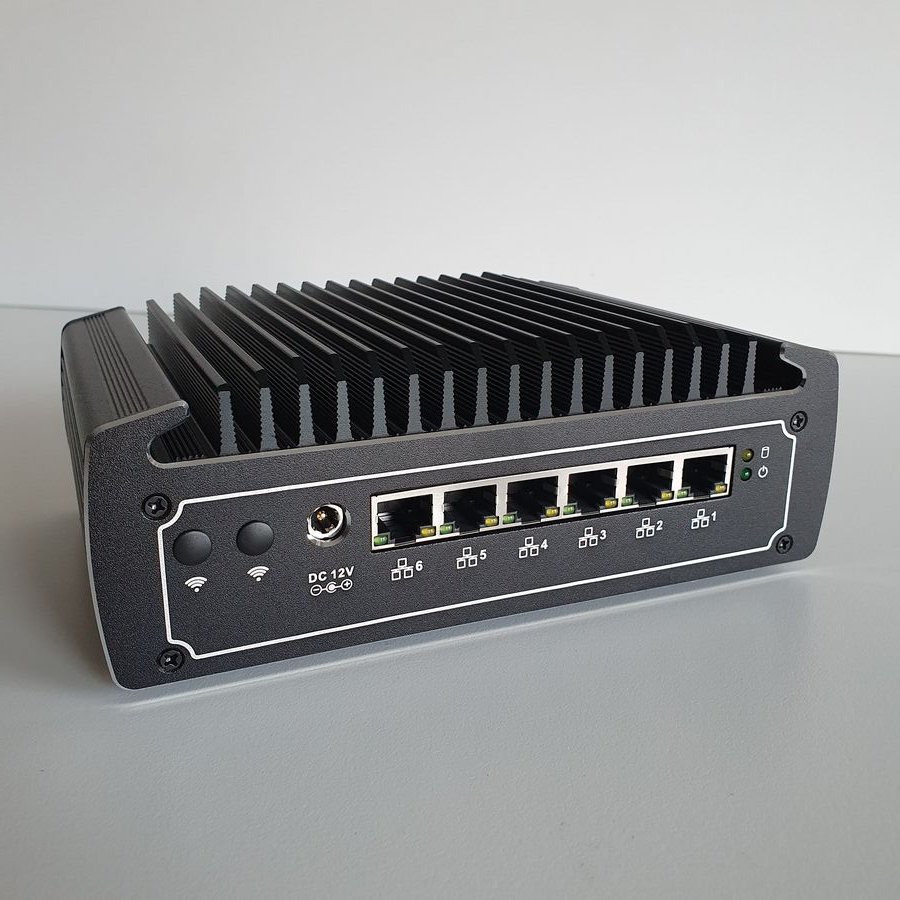 | | |
| --- | --- |
| Compatible parts | View compatible parts |
| Supported operating systems | pfSense® CE, OPNSense, OpenWRT and all other router systems are supported |
| CPU | Intel Core i7 8550U Quad-Core, 8 threads, Up To 4.0GHz. |
| Memory | 16GB installed. 32GB max (DDR4-2666) |
| Storage | 120GB mSata SSD. Additional storage can be installed using SATA port |
| NICs | 6 x Intel I211-AT Gigabit NIC |
| Ports | 1 x HDMI, 1 x serial via RJ45, 4 x USB 3.0, 1 x SATA 3 - for a full size hard drive, 1 x mSATA, 6 x Intel I211-AT Gigabit NIC |
| Graphics | Intel® UHD Graphics 620 |
| BIOS | AMI BIOS |
| Power consumption | ~15W |
| Cooling | Passively cooled |
| Dimensions | 185 x 122 x 66 mm |
| Other | Not compatible with WiFi cards sold in the store |
| Weight | 1.800 kg |
| Manufacturer | Yling |
TLSense 8550U reviews
TLSENSE-i7-8550U
https://teklager.se/en/products/routers/tlsense-i7-8550U
TLSense 8550U: 6x Gigabit LAN, 8th gen i7 CPU,
7,200
SEK
7,200
SEK
2099-01-01
Product is currently out of stock.
Expected in early October
TLSense routers are intended for customers needing high VPN throughput or high IDS/IPS performance in addition to high routing performance and low latency. This model has roughly 12x better OpenVPN performance than APU.
Hardware supports pfSense®, OPNSense, OpenWRT as well as Windows, Linux, OpenBSD, and other operating systems.
See the hardware benchmark to understand how this model compares to other routers offered in the webshop.
Hardware specification
CPU: 8th generation Intel Core i7 8550U Quad-Core, 8 threads, Up To 4.0GHz. Full specification on Intel's website
Network: 6 x Intel I211-AT Gigabit NIC
Memory: Installed 16GB DDR4 (2 slots x DDR4-2400. Max 32GB)
Storage: mSATA. 128GB installed. Supports up to 480GB. Regular 2.5' SATA drives can be installed as well.
Intel® HD Graphics 620
1 x HDMI
1 x serial via RJ45
4 x USB 3 (SuperSpeed)
1 x SATA 3 - for a 2.5' size hard drive.
1 x Mini-PCIe for mSata - does not work with WiFi
CPU has AES-NI support
It can be used as a router, server, or desktop computer.
Included in the box
1 x TLSense router (as specified above)
1 x Power adapter (12V, 7.5A)
1 x SATA cable
1 x VESA mount (can be mounted to a wall)
Tips:
You can install a regular 2.5 inch SATA drive to extend storage to multiple TB. 
You can get extra 16GB RAM to extend memory to the total of 32GB.
Use the HDMI port to enter into BIOS. (press F11 at boot)
It's possible to enter BIOS using serial cable as well. See the RJ45-serial cable.
Note: This model does not work with the mPCIe WiFi cards offered in the store.
Throughput
This hardware has been internally tested at TekLager to provide clients with reliable information.
Full 1 Gigabit routing under all popular operating systems (pfSense, OPNsense, etc).
1 Gbit/s encrypted OpenVPN throughput under pfSense 2.5.2 using AES-GCM. 
1Gbit/s encrypted WireGuard throughput under OpenWRT.
See the hardware benchmark to understand how this model compares to other routers offered in the webshop.
Advantages over competing hardware products
Very low power consumption - 15W 
Low total cost of ownership (no licensing fees, low power consumption)
Completely silent. 0 dB - passively cooled. No moving parts.
CPU has built-in encryption support (AES-NI), allowing for high VPN throughput.
No artificial add-ons required to make your system fully functional
No additional charges for extra features - everything is included: unlimited users, unlimited firewall rules, unlimited VPN accounts.
No planned obsolescence - future versions of open-source operating systems will continue to work on this hardware.