What's the difference between APU2, APU3, APU4, and APU6 boards?
This article was last updated on 2022-12-30
APU2, APU3, APU4, and APU6 boards are very similar in design and performance. However, a few differences are worth knowing if you plan to build a system based on the APU motherboard.
You can connect only one WiFi module to APU3, APU4, and APU6 boards, while you can connect two WiFi modules to the APU2 board. This means you can build a 2.4 GHz + 5 Ghz Access point using APU2.
APU3/APU4 boards have two SIM slots and are optimized for LTE connectivity. You can connect two mPCIe LTE modems and have two additional links for failover or as the main connection.
If you plan to use only one LTE modem, APU2 will work just fine as long as you use the latest version, APU2d or APU2e. The previous version, APU2c and older, had problems with LTE support.
The only difference between APU3 and APU4 is in the number of LAN ports. APU4 has 4 ports, while APU3 has 3. 
APU6 has 3x LAN ports and 1x SFP port, allowing for a fiber connection through an optical transceiver. In addition, it has a small micro-USB serial port instead of classical large-footprint ports on other boards.
APU2e4 has i210AT network interfaces (4 receiving/sending queues), while APU2e5, APU3, APU4, and APU6 have i211AT (2 sending/receiving queues). In practice, I have not seen any difference in performance. 
The routing/Networking performance of APU2, APU3, APU4, and APU6 don't differ in any way. All boards handle regular networking very well.
The power consumption is very similar - about 6W. 
APU2a4, APU2b4, APU2c4, APU2d4, APU2e4, APU2e5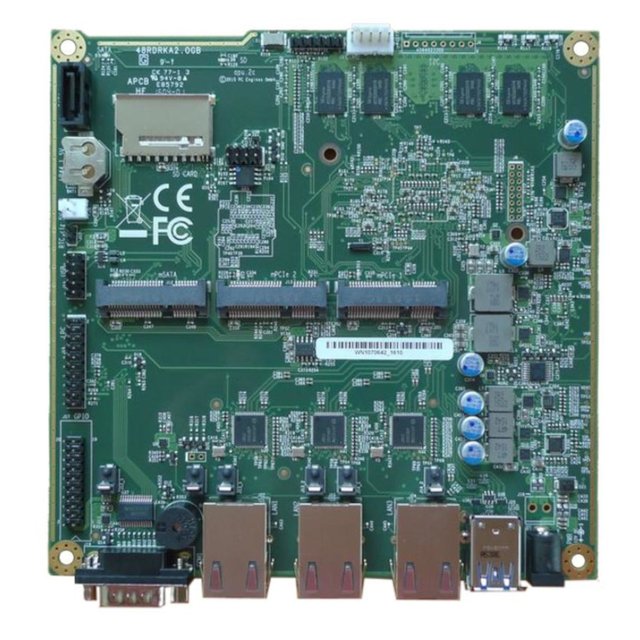 APU2 has one SIM slot.
Possibility to connect 2x WiFi modules
3x i211-AT interfaces in apu2e5 variant
3x i210-AT interfaces in apu2e4 variant
2x i11-AT interfaces in apu2e0 variant
Download APU2 manual.pdf
mPCIe slots on APU2
| Slot | Interfaces | Use Cases |
| --- | --- | --- |
| mPCIe 1 (J14) | PCIe | Wi-Fi modules |
| mPCIe 2 (J13) | PCIe, USB with SIM connected | LTE and Wi-Fi modules |
| mPCIe 3 (J12) | mSATA | only mSATA disks |
APU2d0, APU2e0 - stripped down version of APU2e5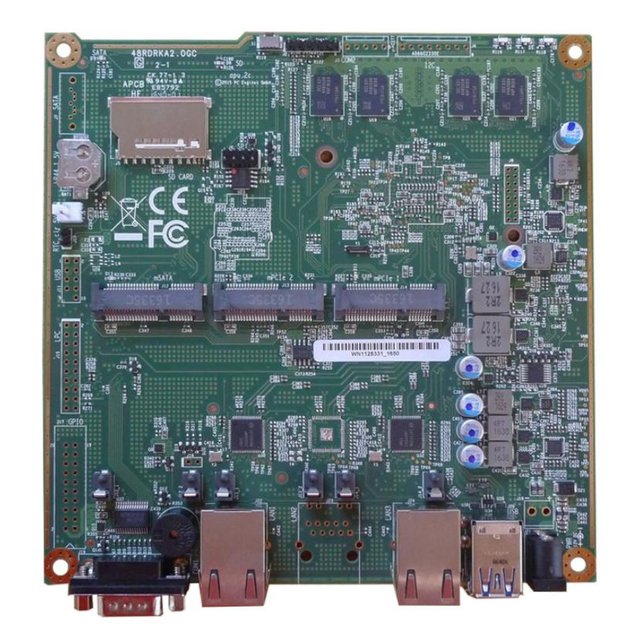 APU2e0 is a stripped down version of apu2e5
2GB RAM instead of 4GB
2x i211-AT instead of 3x (middle removed)
No internal SATA connector (top left)
No internal USB port (middle left)
No LPC header (middle left)
No GPIO header (bottom left)
same as on APU2e5
| Slot | Interfaces | Use Cases |
| --- | --- | --- |
| mPCIe 1 (J14) | PCIe | Wi-Fi modules |
| mPCIe 2 (J13) | PCIe, USB with SIM connected | LTE and Wi-Fi modules |
| mPCIe 3  (J12) | mSATA | only mSATA disks |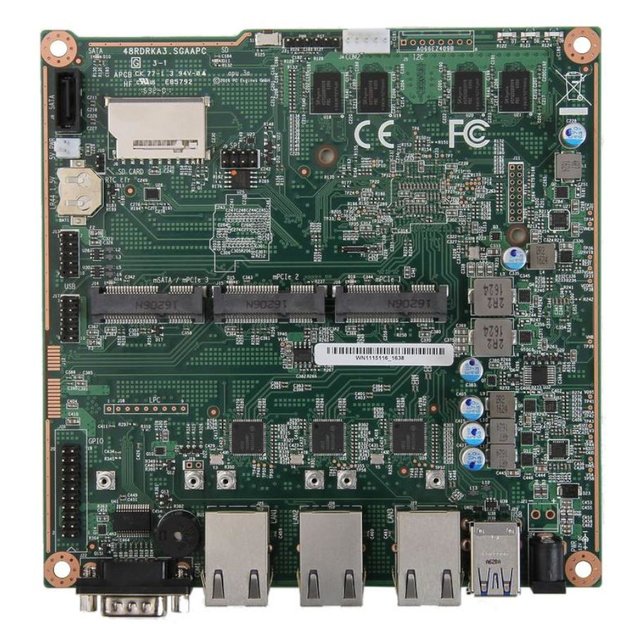 APU3 has two SIM slots.
Possibility to connect 2x 3G/LTE modems
Possibility to connect 1x WiFi module
3x i211-AT interfaces
mPCIe slots on APU3
| Slot | Interfaces | Use Cases |
| --- | --- | --- |
| mPCIe 1 (J16) | USB, PCIe | USB and Wifi modules |
| mPCIe 2 (J15) | USB, SIM1 | only LTE modules |
| mPCIe 3 (J14) | mSATA, USB, SIM2 | mSATA disks and LTE modules |
APU4a, APU4b, APU4c, APU4d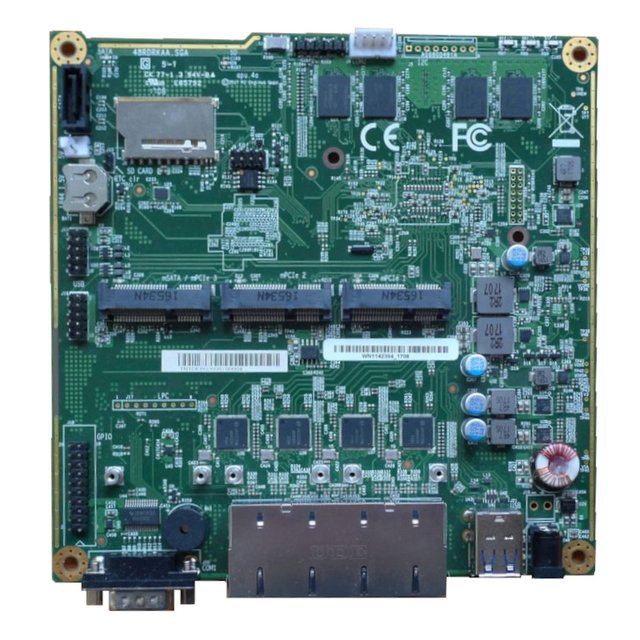 APU4 is almost the same as APU3, but has 4 NICs instead of 3
APU4 has two SIM slots.
Possibility to connect 2x 3G/LTE modems
Possibility to connect 1x WiFi module
4x i211-AT interfaces (one block)
same as on APU3
| Slot | Interfaces | Use Cases |
| --- | --- | --- |
| mPCIe1 (J15) | USB, PCIe | USB and Wifi modules |
| mPCIe2 (J14) | USB, SIM1 | only LTE modules |
| mSATA (J13) | mSATA, USB, SIM2 | mSATA disks and LTE modules |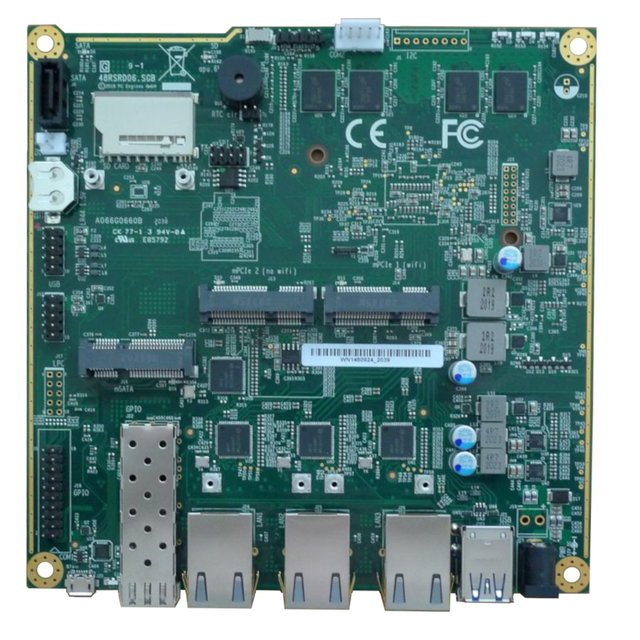 APU6 has 1 SIM slot
1x SFP ports with i210-IS chip (bottom left)
3x Ethernet ports with i211-AT chips
Possibility to connect 1x 3G/LTE modems
Possibility to connect 1x WiFi module
Built-in microUSB serial port (bottom left)
same as on APU3
| Slot | Interfaces | Use Cases |
| --- | --- | --- |
| mPCIe1 (J14) | USB, PCIe | USB and Wifi modules |
| mPCIe2 (J13) | USB, SIM1 | only LTE modules |
|  mPCIe3 (J16) | mSATA | mSATA disks |