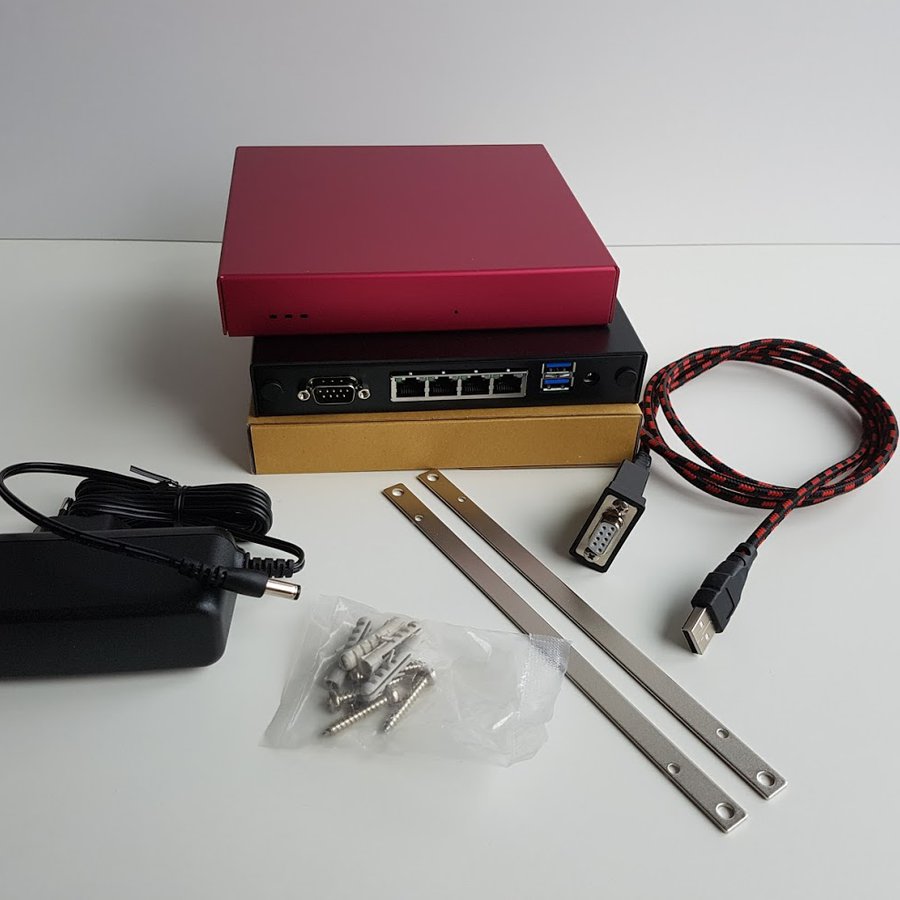 | | |
| --- | --- |
| Operating system | pfSense® CE, OPNSense, IPFire, OpenWRT and all other router systems are supported. |
| CPU | AMD Embedded G series GX-412TC, 1.0Ghz/1.4Ghz quad Jaguar core with 64 bit and AES-NI support, 32K data + 32K instruction cache per core, shared 2MB L2 cache. |
| Memory | 4GB ECC DDR3-1333 DRAM |
| NICs | 4 x Gbit (Intel i211AT) |
| Storage | 16GB SSD (possible to upgrade to 60GB) |
| Graphics | - |
| Power consumption | 6W idle, 12W under full load |
| Ports | DB9 serial port, 2 USB 3.0 external, 2 USB 2.0 internal, three front panel LEDs, pushbutton, 2 miniPCI express, LPC bus, GPIO header, I2C bus, COM2 (3.3V RXD / TXD) |
| Cooling | Passively cooled |
| Dimensions | 16.8 cm X 15.7 cm |
| Other | can connect 1x WiFi card and 2x LTE modems |
| Weight | 0.785 kg |
| Manufacturer | PC Engines |
APU4D4 Router reviews
APU4D4_ROUTER
https://teklager.se/en/products/routers/apu4d4-open-source-router
APU4D4: 4x Gigabit LAN, Quad Core CPU, 16GB SSD, 4GB RAM
2,387
SEK
2,387
SEK
2099-01-01
Product in stock. Shipping today for orders made before 18:00.
APU4D4 is a state of the art router/firewall for office or home. Ships pre-configured, optimized and ready to use.
Hardware supports pfSense 2.4, pfSense 2.5 (when it's released), OPNSense, Open-WRT and number of other operating systems.
Advantages over competing hardware products
Completely silent. 0 dB - passively cooled. No moving parts.
Small: 16.8 cm X 15.7 cm 
Very low power consumption - 6 to 12W. 
Very high throughput - 1 Gbit on pfSense (version 2.4.x, slightly worse performance in 2.5.x), OpenWRT and IPFire. 
CPU has built-in encryption support (AES-NI), allowing for high VPN throughput.
Price.
Hardware included:
Advantages over the proprietary solutions:
Low total cost of ownership
No artificial add-ons required to make your system fully functional
No additional charges for extra features - everything is included. unlimited users, unlimited firewall rules. unlimited VPN accounts.
Low power consumption. It won't show on your electric bill.
No moving parts. This system is designed to last decades.
Router/Firewall comes assembled, pre-configured and ready to use. If you prefer to receive the parts for self-assembly instead, please indicate it on your order. Also, indicate if you would like to have pfSense, IPFire, or no OS installed.
Email/phone setup assistance free of charge.