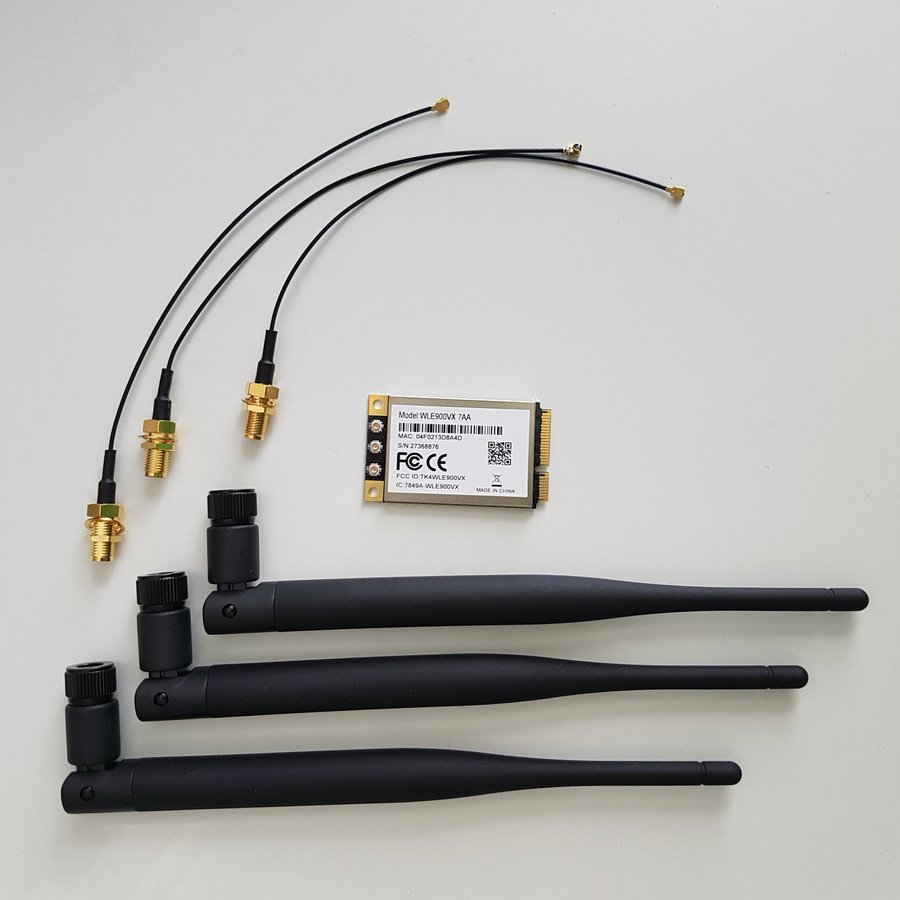 | | |
| --- | --- |
| Compatible with | |
| Manufacturer | Compex |
| Weight | 0.105 kg |
wle900vx wireless WiFi kit reviews
WLE_900VX_WIFI_KIT
https://teklager.se/en/products/router-components/wle900vx-wireless-wifi-kit
wle900vx wireless WiFi kit
567
SEK
(
708.75
incl. SE 25% VAT)
567
SEK
2099-01-01
Product is currently out of stock.
This product will likely not be in stock for a long time. There's a shortage.
Hardware kit includes:
1x Dual Band 3×3 MIMO wle900vx 802.11 ac/a/b/g/n miniPCI express radio card
3x Cable I-PEX -> reverse SMA
3x Antenna reverse SMA dual band
Suitable for APU2, APU3, APU4 and 4-port TLSense routers.
Note:
APU2 supports two WiFi cards. Other routers support only one.
6-port TLSense routers don't support WiFi cards because they have USB interface on the mPCIe ports.
The card is dual-band, but can't operate in both bands simultaneously. To have simultaneous dual-band access point, you need two wifi cards.
If you purchase it together with the router, we will install and configure it for you.
Hardware details
Chipset: Qualcomm-Atheros QCA9880
2.4GHz maximum 21dBm output power & 5GHz maximum 20dBm output power (per chain)
IEEE 802.11ac compliant & backward compatible with 802.11a/b/g/n
3X3 MIMO Technology & up to 1.3Gbps (in theory)
MiniPCI Express 1.1 interface
Works great with OpenWRT, IPFire and other Linux distributions.
See the wireless throughput test.
Warning: pfSense and OPNsense don't support 802.11ac mode yet. This card will not work with pfSense/OPNSense. ath10k drivers required. 
If you need a WiFi kit that works with pfSense out of the box, consider wle200nx.