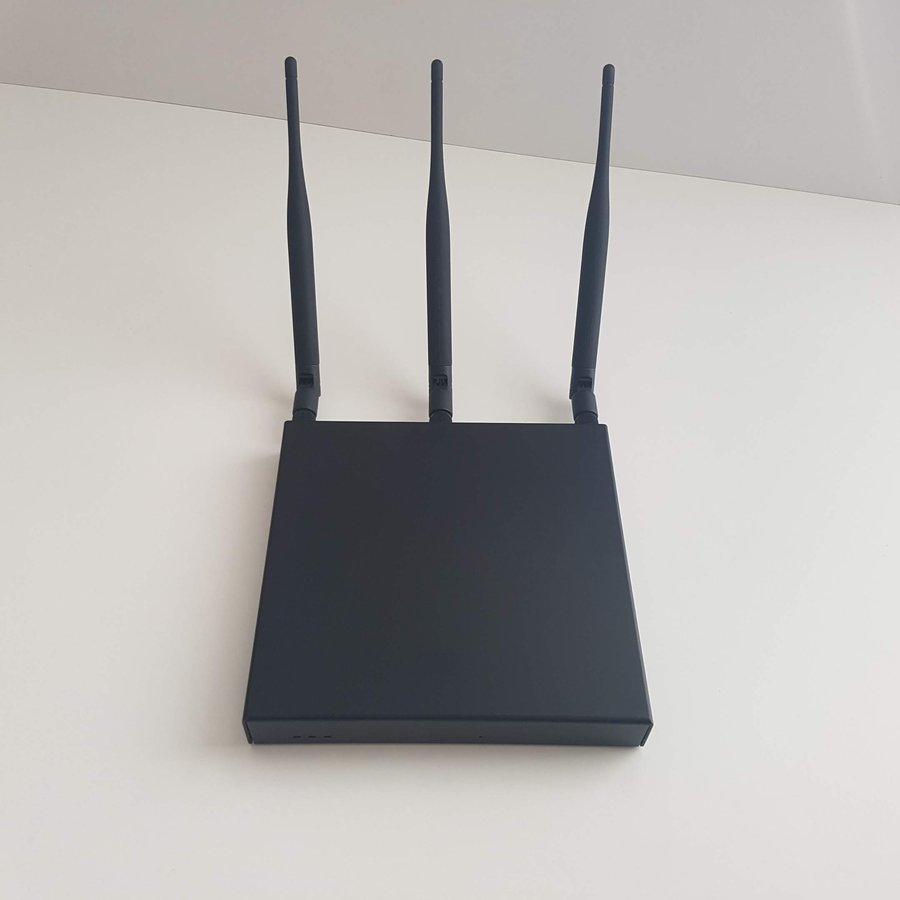 | | |
| --- | --- |
| Compatible parts | View compatible parts |
| Supported operating systems | pfSense® CE, OPNSense, OpenWRT and all other router systems are supported |
| CPU | AMD Embedded G series GX-412TC, 1.0Ghz/1.4Ghz quad Jaguar core with 64 bit and AES-NI support, 32K data + 32K instruction cache per core, shared 2MB L2 cache. |
| Memory | 2 GB DDR3-1333 DRAM |
| Storage | 16GB SSD (durable and fast Solid state drive) |
| NICs | 2x Gigabit (Intel i211AT) |
| Ports | DB9 serial port, 2 USB 3.0 external, 2 USB 2.0 internal, three front panel LEDs, pushbutton, 2 miniPCI express (one with SIM socket), LPC bus, GPIO header, I2C bus, COM2 (3.3V RXD / TXD) |
| Graphics | - |
| Power consumption | 6W idle, 12W under full load |
| Cooling | Conductive cooling from the CPU to the enclosure using a 3 mm alu heat spreader (included) |
| Dimensions | 16.8 cm X 15.7 cm |
| Other | wle900vx WiFi adapter (can connect one more) |
| Weight | 0.800 kg |
| Manufacturer | PC Engines |
APU2E0 Access Point reviews
APU2E0_ACCESS_POINT
https://teklager.se/en/products/routers/APU2E0_access_point
APU2E0 Router and 802.11ac 3×3 MIMO Access Point
2,026
SEK
(
2,532.5
incl. SE 25% VAT)
2,026
SEK
2099-01-01
Product is currently out of stock.
APU2E0 will be out of stock until January 2022. Consider a different model.
This is an 802.11ac MIMO access point built with APU2E0 motherboard, wle900vx wifi card, 3 high-quality antennas, and OpenWRT operating system.
It can be used purely as an access point, or as a full router. By default, we configure these systems as router+access point. If you would like us to configure it as a "dumb" access point only, please specify it in a note at checkout.
APU2, APU3 and APU4 are the most popular routers we sell because they are open-source, achieve excellent performance and are rock solid.
The router is shipped assembled, pre-configured, optimized and ready to use (unless you choose otherwise).
APU router is the most open-source network device you can buy. It comes with open-source BIOS, open-source operating system of your choice and open hardware schematics. It's not locked down in any way.
APU2, APU3 and APU4 are very similar to each other and achieve roughly the same performance. You can see the detailed comparison here. 
Hardware supports OPNsense, pfSense, Open-WRT, *BSD and number of other operating systems.
Things to consider:
APU2E0 is a stripped-down version of APU2E4.

It has 2GB of non-ECC RAM instead of 4GB ECC,
2 LAN ports instead of 3
i211AT NIC interfaces instead of i210AT
no internal SATA port.
in practice it has the same performance as the more expensive version!

APU2 supports two WiFi mPCIe cards. APU3 and APU4 support one. 
APU3 and APU4 are optimized for LTE connectivity, APU2 isn't. You can connect one or two mPCIe LTE modems to APU3 and APU4 to get WAN over 3G/4G.
All LAN ports have real interfaces with separate chips. Those are real router ports, not switch ports.
Hardware included:
Advantages over proprietary Access Points
Very high performance in practice - over 500Mbit/s real throughput. Many commercial APs are having great throughput in theory.
Fully open source. Hardware, BIOS and Operating systems are fully open.
High configurability - OpenWRT allows you to take full advantage of the hardware.
Small: 16.8 cm X 15.7 cm 
Very low power consumption - 6 to 12W. 
CPU has built-in encryption support (AES-NI), allowing for high VPN throughput.
Note: you can purchase additional wle600vx or wle200vx wifi kits, to have 2 access points in 1. For example dual band AP with 2.4Ghz and 5Ghz - as shown on the photo with 5 antennas. 
The wle900vx card is dual-band, but can't operate in both bands simultaneously. To have a simultaneous dual-band access point, you need two wifi cards.
The system comes assembled, pre-configured and ready to use. If you prefer to receive the parts for self-assembly instead, please indicate it on your order.
This hardware can run any operating system, but we HIGHLY recommend using OpenWRT because it delivers superior WiFi performance in comparison to other systems we have tested. This wifi card is not supported by BSD(pfSense, OPNSense), it works great with Linux (OpenWRT, IPFire, etc).