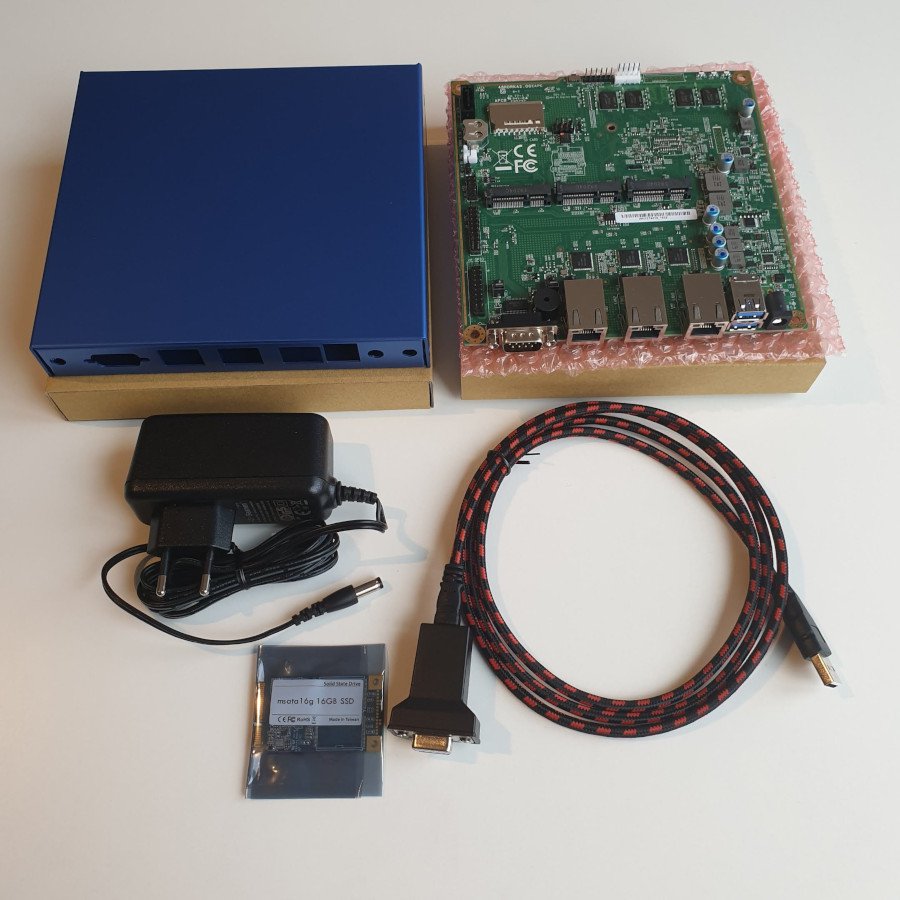 | | |
| --- | --- |
| Compatible parts | View compatible parts |
| Supported operating systems | pfSense® CE, OPNSense, OpenWRT and all other router systems are supported |
| CPU | AMD Embedded G series GX-412TC, 1.0Ghz/1.4Ghz quad Jaguar core with 64 bit and AES-NI support, 32K data + 32K instruction cache per core, shared 2MB L2 cache. |
| Memory | 4 GB ECC DDR3-1333 DRAM |
| Storage | 16GB SSD |
| NICs | 3 x Gbit (Intel i211AT) |
| Ports | 1x Serial, 4x USB, 3x LAN |
| Graphics | None |
| BIOS | Coreboot BIOS |
| Power consumption | 6W idle, 12W under full load |
| Cooling | Passively cooled. Silent |
| Dimensions | 168 mm x 157 mm x 30 mm |
| Other | can connect 2x WiFi cards |
| Weight | 0.785 kg |
| Manufacturer | PC Engines |
APU2E5 Router reviews
APU2E5_ROUTER
https://teklager.se/en/products/routers/apu2e5-open-source-router
APU2E5: 3x Gigabit LAN, Quad Core CPU, 16GB SSD, 4GB RAM
2,710
SEK
(
3,387.5
incl. SE 25% VAT)
2,710
SEK
2099-01-01
Product is currently out of stock.
APU2E5 is the same as APU2E4 with the exception of NIC chips. APU2E4 has i210-AT. APU2E4 has i211-AT. Performance is nearly identical. The chip has been changed due to semiconductor shortage.The price has increased due to the skyrocketing component cost. The stock is limited. 
The router is shipped assembled, pre-configured, optimized, and ready to use (unless you choose otherwise).
APU router is the most open-source network device you can buy. It comes with open-source BIOS, open-source operating system of your choice and open hardware schematics. It's not locked down in any way.
APU2, APU3, and APU4 are very similar to each other and achieve roughly the same performance. You can see the detailed comparison here. If you aren't sure which one to choose, get APU2E4. 
Hardware supports OPNsense, pfSense, Open-WRT, *BSD and number of other operating systems.
Things to consider:
APU2 supports two WiFi mPCIe cards. APU3 and APU4 support one. 
APU2E4 has intel i210-AT network interfaces (theoretically more performant at high load - I haven't noticed the difference)
APU2E5 has intel i211-AT network interfaces.
APU2E0 is a stripped-down version of APU2E4. It has 2GB of RAM instead of 4, 2 LAN ports instead of 3 and no internal SATA port. 
You can connect a 2.5' SATA drive to an internal SATA port to expand storage up to 1TB+. (not on APU2E0)
APU3 and APU4 are optimized for LTE connectivity, APU2 isn't. You can connect one or two mPCIe LTE modems to APU3 and APU4 to get WAN over 3G/4G.
All LAN ports have real interfaces with separate chips. Those are real router ports, not switch ports.
Advantages over competing hardware products
Completely silent. 0 dB - passively cooled. No moving parts.
Small: 16.8 cm X 15.7 cm 
Very low power consumption - 6 to 12W. 
CPU has built-in encryption support (AES-NI), allowing for high VPN throughput. 100-140Mbit/s on OpenVPN and about 700Mbit/s on Wireguard
Price.
Hardware included:
Advantages over the proprietary solutions:
Low total cost of ownership
No artificial add-ons requires to make your system fully functional
No additional charges for extra features - everything is included. unlimited users, unlimited firewall rules. unlimited VPN accounts.
Low power consumption. It won't show on your electric bill.
No moving parts. This system is designed to last decades.
Router/Firewall comes assembled, pre-configured and ready to use.