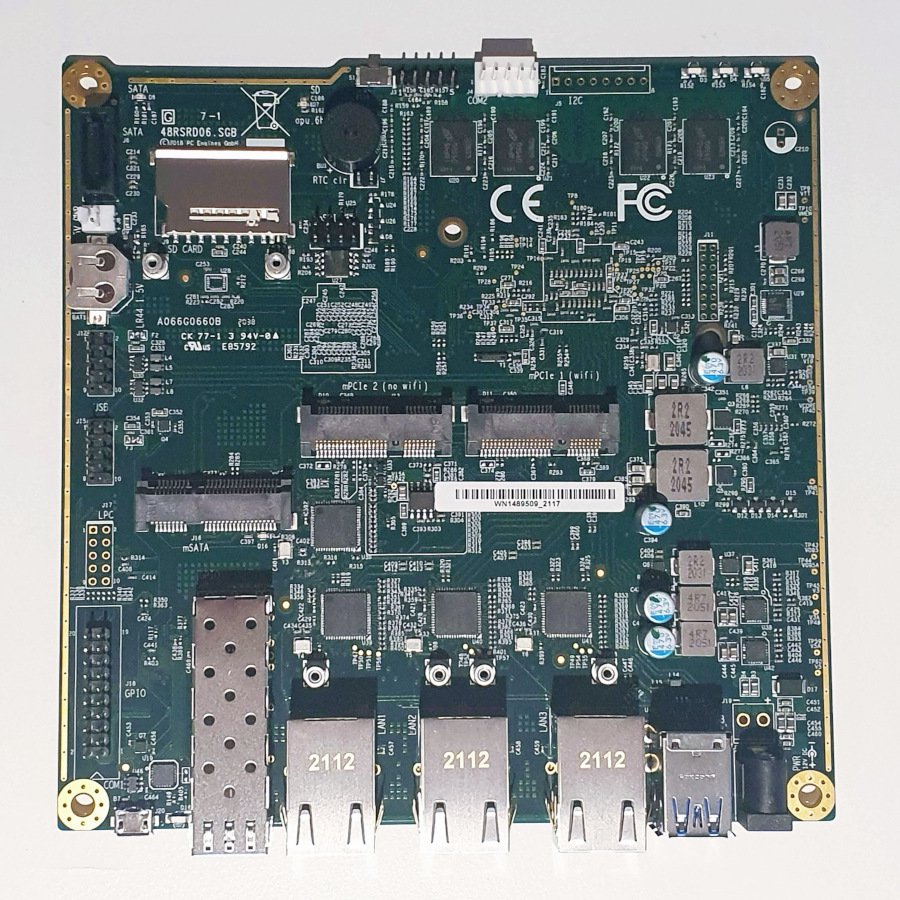 | | |
| --- | --- |
| Compatible with | |
| Manufacturer | PC Engines |
| Weight | 0.245 kg |
APU6B4 motherboard reviews
APU6B4_MOTHERBOARD
https://teklager.se/en/products/router-components/pc-engines-apu6b4-motherboard
PC Engines APU6B4 - 1 SFP / 3 LAN / quad core CPU / 4 GB RAM
2,353
SEK
(
2,941.25
incl. SE 25% VAT)
2,353
SEK
2099-01-01
Product in stock. Orders made before 17:00 are shipped on the same day within Sweden. International orders are shipped on the next business day.
This board version is targeted at applications that require an optical SFP port. 
APU6B4 board specification
CPU: AMD G series GX-412TC, 1.0/1.4Ghz, quad Jaguar core with 64 bit and AES-NI support, 32K data + 32K instruction cache per core, shared 2MB L2 cache.
DRAM: 4 GB DDR3-1333 DRAM
Storage: Boot from SD card, external USB, or m-SATA SSD. 1 SATA + power connector. mSATA is shared with miniPCI express.
12V DC, about 6 to 12W depending on CPU load. Jack = 2.5 mm, center positive
Connectivity: 1 SFP port (Gigabit, Intel i210IS), 3 Gigabit Ethernet channels (Intel i211AT)
I/O: microUSB serial port, 2 USB 3.0 external + 4 USB 2.0 internal, three front panel LEDs, pushbutton
Expansion: 3 miniPCI express (J14 USB or mSATA, with SIM; J15 USB only, with SIM; J16: full miniPCI express, but no SIM, intended for wifi). GPIO header, optional I2C bus, COM2 (3.3V RXD / TXD).
Board size: 6 x 6" (152.4 x 152.4 mm)
Firmware: coreboot 
Cooling: Conductive cooling from the CPU to the enclosure using a 3 mm alu heat spreader (included).
APU6 board is the same as APU3, with the exception of the SFP slot.
See the comparison between APU2, APU3 and APU4 boards for more details.