Which router should I buy? 
This might be the most asked question we get, and the answer is: it depends on what you want to do with it :-)
Below we list a few typical requirements we hear from customers.
I want a reliable router for home and don't plan on using advanced features!
Often we get this type of customer - someone who is super tired with rebooting their Asus or D-link router every day. If you are one of these users, I suggest you get APU2E0, the cheapest router we have. It's 10x more powerful and stable than what you currently have. You will turn it on and forget about your internet problems. 
APU2E0 has 2GB of RAM, and 2 LAN ports. If you would like to have more RAM or more LAN ports, you could consider
We usually recommend that you have a separate router and separate access point if you want to use pfSense. "Ubiquiti HD" is one good recommendation. If you want to use OpenWRT, then it's perfectly fine to have a router and access point in one device.
This is the typical network topology, with a router, switch, and Access Point.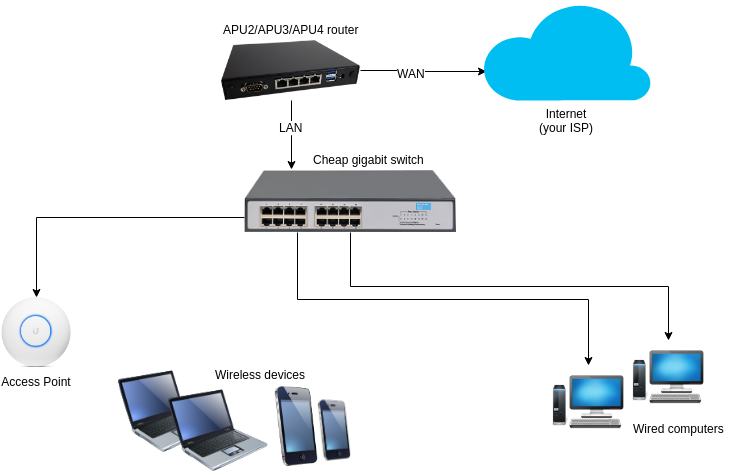 I want to have an all-in-one device, without a separate Access Point
Some customers prefer to have Access Point and router in one device. For that purpose we have APU2E0 all-in-one router. You still can connect a switch and another access point, but you don't have to.
This device is a router + 802.11ac MIMO access point built with APU2E0 motherboard, Dual Band 3×3 MIMO Compex wle900vx wireless adapter, 3 high gain antennas, and OpenWRT operating system. This hardware achieves fantastic wireless speeds in practice - more than 500Mbit/s. Many commercial APs have great throughput only in theory. 
I want to play with pfSense/OPNSense and install multiple different packages
If you are going to use multiple packages on your router, such as OpenVPN, LightSquid, Snort, Suricata, etc, you may want to get a router with 4 or 8 GB or more RAM. 
APU2E4 (formerly APU2D4) is currently the most popular router we sell. It has 4GB or RAM and is reasonably priced.  If you plan to play around with different operating systems, this is probably the router you should get.
If you need super-high throughput, you may want to invest in TLSense, with more powerful CPU, see below.
I want to use LTE/4G in my router
For customers that would like to have WAN over the cellular network (LTE, 3G or 4G) should purchase APU3C4 or APU4D4. It's the same hardware as APU2D4 but has better support for cellular modems. 
I need a high throughput over VPN and/or IDS
See the hardware benchmark to understand the performance differences between models offered in the webshop.
TLSense series of routers target clients requiring the highest routing throughput, lowest latency, and highest VPN performance.
TLSense has much more powerful CPUs and can handle higher VPN throughput, and more CPU heavy applications such as Snort or Suricata. See the hardware comparison article to determine which model best suits your needs.
I want something special
If you need something that is currently not in the webshop, please contact us - we may be able to help you.